A-Con 2016

Season 1, Episode 33
Statistics
Post Date
March 6, 2016
Duration
14:15
Credits
Written By
*Aphmau
Directed By
*Aphmau
Produced By
Edited By
Storyboarded By
Episode Guide
Previous
"Her Best Friends"
←
Next
"Cosplay and Chaos!"
→
"
A-Con 2016
" is the 33rd episode of 
MyStreet.
 It premiered on March 6th, 2016. 
Blurb
"Aphmau invites Aaron and Zane to their first anime convention! Not only that a ton of friends plan to room with them as well!"
Summary
TBA
Characters
Trivia
On Twitter, Aphmau revealed that "A-Con" is a play on the REAL anime convention A-Kon, which she used to go to in Dallas, Texas.
As of this episode, the main characters appear to have reverted back to the regular attire from the beginning of the series.
The costumes Lucinda conjure up for Aphmau are: Usagi Tsukino (Serena Tsukino in English dub) from the Sailor Moon franchise, Pikachu from the Pokemon franchise, and lastly Aaron's attire from Minecraft Diaries series.

While Aphmau was wearing the Pikachu costume, Zane makes a comment that it was a game that Garroth used to play, which he denies, while Laurance replies that Digimon was the superior franchise. This is a reference to the rivalry between Pokemon and Digimon during the late 1990s and their similarity in franchise. 
After Aphmau changed into Aaron's attire, the group appeared confused as the costume is unknown. This is due Minecraft Diaries taking place on a different universe from MyStreet.

There are two things noticeable about Aphmau's Aaron costume, one being that a bra appears on Aphmau when she changes into Aaron's attire and Aaron's chest is uncovered in that outfit, this bra appears on Aphmau to keep the video's kid friendly status. Also, on the thumbnail Aphmau appears without the hood on. 
Video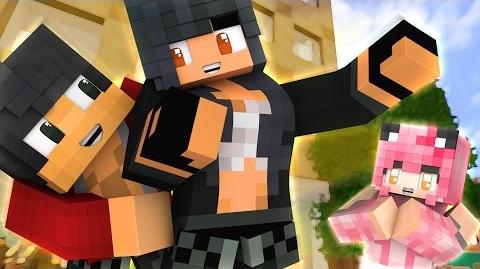 Ad blocker interference detected!
Wikia is a free-to-use site that makes money from advertising. We have a modified experience for viewers using ad blockers

Wikia is not accessible if you've made further modifications. Remove the custom ad blocker rule(s) and the page will load as expected.