Abby

Characteristics

Race

Human

Gender

Female

Traits

Complexion

Fair

Hair Color

Golden Brown

Eye Color

Light Green

Personal Status

Relationships
Counterpart

Media

First Appearance
Voice Actor

Anairis Quinones
Biography
Early Life
It is saying that Abby was born between MySreet Phoenix Drop High and MyStreet. During that time, her mother passed away, leaving Jeffory to take care of her alone. Too young to stay alone, she had to be babysat by a caregiver or one of Jeffory's close friend, like Katelyn. Aphmau had to watch Abby for Jeffory and with Travis's help in Mystreet Episode 23.
Appearance
As a child in MyStreet, Abby has pale chestnut hair, except that it is redder and shorter than usual. She has minty green eyes and wears short blue overalls with a long sleeved pink and white striped shirt.
Personality
In MyStreet, Abby is a playful child and has a kind personality, which is passed down from her father. Abby seemed to have adopted some of Katelyn's mannerism and aggressive attitude as she will fight people who she despises. She is fond of Katelyn as she is excited to stay with her and is implied that she likes Katelyn with Jeffory.
Gallery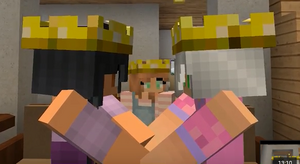 Quotes
"

You're not my Unkie!

"
Abby, MyStreet Episode 23: Mr. and Mrs. Travis
Trivia
According to Katelyn, Abby is smart beyond her years.
It is suggested that Minecraft Diaries Abby is close age to Fenrir. However, this seems false in MyStreet. In the prequel series, Fenrir is seen talking to Aphmau before the fight between Aaron and Balto began.