This article is about the character during Season Three of "Minecraft Diaries". For more information about Aphmau in Season One, click here, and for more information about Aphmau in Season Two, click here.
"

I don't remember anything! How can I be someone I don't know how to be!?

"
Aphmau Season 3 trailer
"

Shad is after my daughter! And I'm having a hard time letting her be.

"
Aphmau Season 3 episode 3
Aphmau
Title(s)

Lord Aphmau
Lady Aphmau
Lady Irene
Irene the Matron

Full Name

Characteristics

Race

Divine Goddess
Human (Formerly)

Weapon

Mithril Sword (Former)
Cold Iron Sword (Former)
Diamond Sword (Former)
Aaron's Demon Broadsword (Current)
Frost Broadsword (Divine Warrior Form)
Guard Academy Diamond Sword (Nether)

Gender

Female

Age

Over 1000 years old

Traits

Handedness

Right

Complexion

Tan

Hair Color

Black

Eye Color

Light Brown/Amber

Professional Status

Affiliation(s)

Phoenix Drop
Phoenix Drop Alliance
Divine Warriors

Occupation(s)

Leader of The Phoenix Alliance

Previous Occupation(s)

Lord of Phoenix Drop

Previous Partner

Personal Status

Status

Active

Relative(s)
Relationships
Friend(s)
Enemy(s)

Media

First Appearance
Became "Aware"
Voice Actor
Biography
Aphmau returned from a trip overseas during the three year time skip and had already given birth to Alina during the skip.
In EP 1 and 2, after finding out that Zane has returned and that Aaron is gone but his body is intact, she first interrogated him along with Garroth, using his relic as a threat if he doesn't speak and questions him about Aaron. She then along with Garroth and Katelyn went to Bright Port to deal with the matter according to what Zane said and went into the Nether. There she saw Laurance, who now resides in the Nether, Gene along with Shad, who now resides in Aaron's body, greatly shocking her. He follows them out of the Nether where he easily defeats the barrier that Hailey had set up over the Nether portal. Stunned over the fact that he looks like Aaron, Shad confirms that Aaron is dead but he uses his body as a vessel, angering her over thinking that who she's seeing was thought to be Aaron, still alive and evil, and that Aaron's soul will not get to rest in peace after she understood his sacrifice back in EP81 from his letter in EP84 as noted to Katelyn in the next episode. After sensing Alina nearby, Shad demanded Aphmau to hand her over as she is also his daughter and holds his relic, causing her to locks swords with him and angrily refusing to hand over Alina as she believes that Shad will do something very bad to Alina if he has his hands on her.
Aphmau then started following Alina everywhere she goes after the warning and in EP 3, she went to Emmalyn's house to learn more info about Shad. There she saw Zoey's messenger fairy who told her to meet her in the Yggdrasil Forest to deal with the Heart of Darkness who demands for her to come, as Lady Irene.
While getting permission from Dante about the departure, she learned that he was the reason for Gene's death after he tried to alter the Lord of Oboros' daughter's memories.
When she met Zoey at the Yggdrasil Forest and the Heart of Darkness in her house in the form of Shad, he questions her why she could've have done something to him. Aphmau states that she doesn't know.
After Shad disappeared as the Heart of Darkness, she and Zoey went to the elder of her village as he waiting for her. He later explained that Aphmau must find all of the Divine Warriors' descendants and their relics to stop Shad, and that as Lady Irene, she should know who they are and where. Aphmau, telling him that she doesn't know who and where they are thanked him for the info.
She later returned to the village elder in the next episode after Alina started to have her relic's power leaked out from her and was given a bottle to help soothe the pain if she releases her powers again and goes berserk.
After Levin decides to go back to the Phoenix Capital, she realized that Travis is there and that he is the descendant of one of the Divine Warriors, Enki, and decides that once they reach the Phoenix Capital, she should look for him.
While on the boat heading towards the Phoenix Capital, she helps Levin bandaged his hand after she lost her healing powers after giving birth to Alina and also stopped Katelyn and Garroth's fight over Liochant's trust since he's from Tu'la. But because he overheard their conversation, Aphmau has declared him her personal guard and no longer Alina's and Lilith's until they safely meet Travis.
When she and Liochant met with Travis, she was shocked to hear that Travis accidentally revealed his Demon Warlock nature and caused the village to fear him. While getting ready to head to Enki Island, she noticed that her daughter, Alina sneaked on board, Aphmau decides that Alina will come to the portal, where Alina inadvertently used the relic to open the portal when Travis could not. Aphmau tried to congratulate her and let Alina play with Katelyn while she and Travis head to the Demon Warlock.
The Demon Warlock mocked Aphmau as Lady Irene and not having her memories, with Aphmau insisting that she is Aphmau and not Irene. This gave enough time for Travis to slain his father and get the Enki Relic.
After Katelyn let's him and Alina rest after Travis collapsed from his injuries, she and Katelyn decided to held to the ruins where they could find more info about Enki and Irene since the relic didn't go to Travis immediately. While at the ruins, Aphmau could only find the diary of Enki's love to Irene when she gets near a wall. The relic reacted to the wall and a secret door open, so Aphmau and Katelyn explore what's inside.
When Aphmau and Katelyn look at the books trying to find clues about Enki, Katelyn lend her a book that was previously empty, but now full of words. When Aphmau touched the book, she is suddenly flooded with memories and had a vision of her past as Lady Irene. She then decided to head back to the Phoenix Alliance Island with Garroth and the others, where she reunited with Malachi, who told her that Pikoro Village was under attack by Shadow Knights, who were looking for Alina according to survivors. She decides that they have to go to Hyria in the Sacred Forest, for questions and for sanctuary.
Aphmau asked for Hyria about information about Irene and the visions about seeing Shad and Irene where she experienced the same thing Irene experience. Hyria theorized that the relic has some of Irene's memories and how Shad's relic is calling out to Irene's relic. Aphmau only knew about how the relic was made to give to the Divine Warriors and that she needs to fine more information. She also asked Hyria to take care of Alina and Lilith since they're too young to take care of themselves.
Aphmau asked if Hyria knows where Lucinda is and Hyria said that she's wandering all over the area of Pikoro Village. Aphmau decides to change her clothes since Shad saw her and heads off. While asking for directions to Pikoro, a young man recognized her as Lady Irene and asked her to heal a sick young man as the Matron after telling her directions.
Realizing that telling him that she can't heal won't go anywhere, Aphmau ponders about her ability to heal after she did it on Dante back in Season 2, and fearing that everyone looks up to her will be disappointed if she tells the truth. The heavy thought on her mind about no one understands her unexpected powers from the relic and how she lost it caused her to faint all of a sudden.
Appearance
She has purple chainmail armor with a maroon chestplate over it along with light purple plates near the sides of her stomach. She also wears a gauntlet bracelet on her wrist and wears a light brown belt and a light purple miniskirt. She wears shorts underneath her skirt and has maroon and dark purple boots.
Her hair is black, and she has amber/light brown colored eyes, like the previous seasons.
Personality
Aphmau still retains her cheerful personality from Season 1 and 2, but because she knows that she's Lady Irene and is supposed to have full memories from her past, Shad is on the run looking for her and Alina, and controlling Alina's powers from going berserk, she seems more stressed out and is more likely to suffer from emotional breakdown as she now suffers a heavy load of issues to deal with. Because of this, she has to be more wise with her actions on her quest.
She is also worried about losing her identity as Aphmau once she regains all of her memories as Lady Irene and will possibly start calling herself that in the future, as she sighs with shame whenever someone calls her 'Irene'. She even tries to deny that she's Irene and that she's herself when enemies like Shad, the Heart of Darkness and the Demon Warlock insist that she's Irene.
Gallery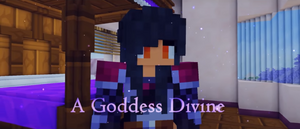 Trivia
Aphmau gets a new set of clothes/armor/skin this season.
According to EP 9, Aphmau had lost her healing powers that she gained in Season 2, after Alina's birth and it is unknown who and where the healing powers is and goes to.
Ad blocker interference detected!
Wikia is a free-to-use site that makes money from advertising. We have a modified experience for viewers using ad blockers

Wikia is not accessible if you've made further modifications. Remove the custom ad blocker rule(s) and the page will load as expected.