Azura
Title(s)

Azura The Valour Hand

Characteristics

Race

Human

Weapon

Diamond Sword

Gender

Female

Traits

Handedness

Right

Complexion

Fair

Hair Color

Dark Blonde

Eye Color

Dark Blue

Professional Status

Occupation(s)

Member of the Dragon Ward

Previous Occupation(s)

Head Guard of Bright Port

Personal Status

Status

Alive

Relationships

Media

First Appearance
Biography
Azura is first seen in Season 1, Episode 8, when she was guarding The Lord of Bright Port's home. She is head guard of Bright Port. She also grew up with Garroth in O'Khasis. She went to guard school with Garroth as well.
Azura had romantic feelings for Garroth when they were younger. This can be proved by one of Dale's drunken rants, when he jokingly proclaims "I'm Azura and I wuve Garroth." or LOOK AT ME I'M AZURA I SECRETLY AM IN LOVE WITH GARROTH BUT HE DON LOVE ME *hic*
During Lord Burt's slumber, she is said to have been the leader of Bright Port.
Her status in Season 2 is unknown.
As of Season 3, Azura is part of the Dragon Ward in Bright Port, known as 'Azura the Valour Hand'.
Appearance
In season 1, Azura has blonde hair and dark blue eyes. She wears a green short-sleeved top with a quiver and a brown belt with a small gold buckle.
In season 3, Azura has dark blond hair that drapes over her dark blue eyes. She wears dark green and brown patterned armour with metal shoulder plates.
Personality
Azura is a very loyal guard and she would do anything for Lord Burt, even kiss him!
Gallery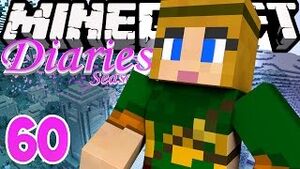 Trivia
The name Azura is an elaboration of Azure, from the English word that means "sky blue".
Her name is very similar to Asuna from Sword Art Online.