Balto

Characteristics

Race

Werewolf

Weapon

Werewolf Claws and Teeth

Gender

Male

Traits

Complexion

Pale

Hair Color

Dark Brown

Eye Color

Red

Professional Status

Affiliation(s)
Occupation(s)

Personal Status

Status

Alive

Counterpart
Biography
Balto is a Werewolf from the Southern Wolf Tribe near Bright Port. He is always saying he should be Alpha.
Appearance
Balto has dark brown fur and red eyes with small pupils, large white claws and teeth, common to werewolf.
Gallery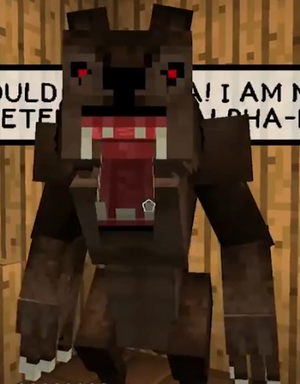 Quotes
"

Elder took some of tribe to go on yearly Elder pilgrimage. It's ancient ritual. ALPHA WEAK THOUGH AND SHOULD HAVE GONE. INSTEAD TALK WITH HAIRLESS HUMANS! GRAH! BALTO SHOULD BE ALPHA

"
Balto, Minecraft Diaries Season 1 episode 14
"

I SHOULD BE ALPHA! I AM MORE COMPETENT THAN ALPHA-NOW!

"
Balto, Minecraft Diaries Season 1 episode 17
Trivia
He wants to be alpha.
The meaning of Balto is unknown. It is possibly related to BALDO, which means "bold, brave", or VALTO, which means "to rule with greatness". A famous bearer of this name is Balto, a Siberian Husky that led a dog sled team that helped transport diphtheria antitoxin from Nenana, Alaska to Nome, Alaska.
Balto is also a character in Mystreet Phoenix Drop High, which is this Balto's counterpart.
Ad blocker interference detected!
Wikia is a free-to-use site that makes money from advertising. We have a modified experience for viewers using ad blockers

Wikia is not accessible if you've made further modifications. Remove the custom ad blocker rule(s) and the page will load as expected.