Boss
Title(s)

Boss

Full Name

Unknown

Characteristics

Race

Human

Weapon

Unknown

Gender

Female

Traits

Complexion

Pale White

Hair Color

Dark-blue

Eye Color

Dark-blue

Professional Status

Affiliation(s)

Thief Guild

Occupation(s)

Leader of the Thieves Guild

Personal Status

Status

Active

Relationships

Media

First Appearance

S2 E40

Became "Aware"

N/A
Biography
"Boss" is the head of a group called the Thieves Guild. Aphmau is forced to join the Guild because of a pick pocketer called Amber. It turns out that the Boss is using Amber because she has taken a liking to her. Amber stole Levin's Music Box and now has to work for her to get it back and gain information on the disappearance of Levin, Malachi, and Zoey.
She sets Aphmau up on three trials or tasks but so far only two challenges have been revealed. The first one is to pick pocket something of diamond value and the second one is to pick pocket something from O'khasis, which Aphmau is scared to do. After getting a report that O'Khasis is being invaded, she decides to pack up the guild and move because they might be next since O'khasis is right in their back door. (literally) She tells Aphmau the information she needed to know and then says bye, calling Aphmau by her own nickname for her that irritates Aphmau.
She appears again in the episode Reunion with a Thief and is actually quite docile to Aphmau, and maybe even more friendly than before. She notes that Aphmau has changed alot, so aybe this could be the reason why Aphmau is getting more respect. She even comments of the loss of her Meif'wa form, even if she does note that she didn't think she'd see her again. Nonetheless, Aphmau and the boss talk about getting into O'Khasis, stating that Aphmau is in fact, a fool. The boss arranges the mission anyway, because Aphmau promises her information, something she is very eager to get her hands on. She seems to be more human, treating Aphmau with respect, and treating Amber like she's a real person and not a "tick". One could say it could be from when Aphmau stood up to her, but it's doubtful it was that.
Appearance
She has dark blue hair and dark blue eyes and wears brown and black clothing.
Personality
She is a greedy character and selfish. She takes over people's weaknesses and uses them like she has done with Amber, but she is known for her little kindness because when Amber was an orphan, she gave her some bread that she stole.
Only little is known about her but she has a good reputation in the village as their hideout is hidden.
Her, the thieves, probably Amber and the guild are relocating their hideout since the recent invasion of O'khasis and Nahakra Village by the Tula region.
She is incredibly eager for information, and later in the series appears less cold and more respectful towards Aphmau and get friends.
Trivia
The Thieves Guild is a guild located in Riften in Skyrim (video game). The base of the Thieves Guild in this is hidden similarly and looks similar to the one in Skyrim. The leader, Mercer Frey (later the Dragonborn if they choose to be) is a guy however.
Gallery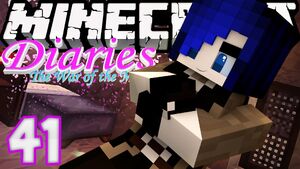 Ad blocker interference detected!
Wikia is a free-to-use site that makes money from advertising. We have a modified experience for viewers using ad blockers

Wikia is not accessible if you've made further modifications. Remove the custom ad blocker rule(s) and the page will load as expected.