Boy-Shopping

Season 2, Episode 6
Statistics
Post Date
June 23, 2016
Duration
14:09
Credits
Written By
*Aphmau
Directed By
Produced By
Dom
Edited By
Storyboarded By
Episode Guide
Previous
"A New Relationship!?"
←
Next
"Travis In Paradise"
→
"
Boy-Shopping
" is the 6th episode of the
second season
of
MyStreet
and the 41st episode overall. It premiered on June 23rd, 2016.
Blurb
"Aphmau and Aaron discover their new neighbors."  
Summary
The episode starts with Aaron and Aphmau chatting in her room her telling him her mother is taking her out to look for a boyfriend. She goes with Katelyn as well, and Katelyn finds out that Savannah, Aphmau's mom, and her dad are dating. Aphmau also tells her mom about Aaron being her real boyfriend.
Characters
Trivia
The blurb is the same as the previous episode, which Aphmau may have forgotten to change, likely due to the fact that shes attending Vidcon 2016. 
Sylvana hates Aaron so much that she compares him to The Devil.

Aphmau finally told her mom about her and Aaron.

Katelyn actually likes the idea of Sylvana and Eric.

She caught on their relationship after Eric told his "coffee date" story.

Aphmau still faints when Aaron kisses her.
Sylvana flirts with a poster, similar to how Aphmau does with her Levi poster.
According to Katelyn, her relationship with Travis is "complicated."
Katelyn mentions Kawaii~Chan and Dante hanging out at the beach. This is a reference to the two being married in Minecraft Diaries.
Sylvana chasing Aaron is a reference to her frequently doing so when Aaron was too close Aphmau in MyStreet Phoenix Drop High.

Sylvana has learned modern slang like "thirsty." We don't know where she learned this from. 
Video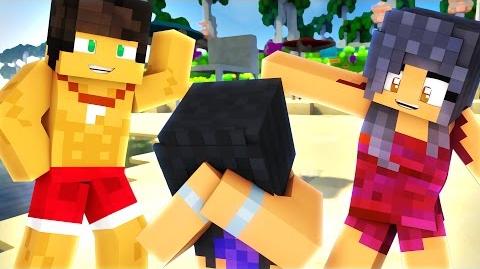 Ad blocker interference detected!
Wikia is a free-to-use site that makes money from advertising. We have a modified experience for viewers using ad blockers

Wikia is not accessible if you've made further modifications. Remove the custom ad blocker rule(s) and the page will load as expected.