Dale

Characteristics

Race

Human

Weapon

Sword

Gender

Male

Traits

Complexion

Pale

Hair Color

Brown

Eye Color

Dark Blue

Professional Status

Previous Affiliation(s)

Phoenix Drop

Previous Occupation(s)

Guard of Phoenix Drop
Head Guard of Phoenix Drop

Partner

Molly (Wife)

Personal Status

Status

Alive

Relative(s)
Relationships

Aphmau (Ex-Lord)

Friend(s)

Media

First Appearance
Became "Aware"
Biography
He first appeared in Episode 1: New World; Dale was once the second in command of Phoenix Drop. He is married to Molly and is the father of Brian and Alexis. In the Episode 78: Phoenix Rising, he quit the position as a head guard and became a normal villager. In between his other jobs he was an accountant of the village's money and resources.
In Season 2 he moved out of the village with Molly, leaving Alexis in Phoenix Drop. Dale also likes to drink a LOT. According to Alexis, they offered to take her with them.
Dale's status is currently unknown, but it is presumed he is still alive.
Appearance
Dale has a brown beard along with a mustache and brown hair revealed when he leaves the position as guard. His guard attire is chain mail with a blue cloak with gold trimmings. When he quit his position he wore a red T-shirt, jeans with a belt and black boots.
Personality
While Dale was a guard, he very easily gave into temptation and had too much root beer. When his job transitioned to a regular villager, he still often was drunk but he had a happiness and an appreciation for his family. He was also known to have strong hatred towards Former High Priest Zane for aging his daughter Alexis.
Drunk Facts
When he grows up, he wants to be a spoon and he always dances. In one episode, he said "Hi my name Azura and Garroth don't wuv me". Also in episode 51 season 1, he flirted with his wife on the day of Logan and Donna's wedding, thinking she was another person.
Gallery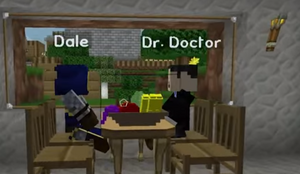 Trivia
TBA