Fenrir
Full Name

Fenrir

Characteristics

Race

Werewolf

Weapon

Claws

Gender

Male

Traits

Complexion

Lightly Tanned

Hair Color

Brown

Eye Color

Black

Professional Status

Occupation(s)

King

Previous Occupation(s)

Prince

Personal Status

Status

Alive

Relative(s)
Friend(s)

Abby (Love Interest)

Counterpart

Media

First Appearance

Season 2 Episode 18

Voice Actor

LucariosKlaw
Voice
N/A but believed to be Lucarios Klaw. If you listen hard enough, you may be able to hear the Zane and Dante in his voice
Biography
Fenrir is the son of the King of the Southeastern Wolf Tribe and Queen Ylva. He is being forced to marry Aphmau despite the fact that he is in love with another girl, who is also his best friend, Abby, who has been placed in the dungeon by his father. During his and Aphmau's "wedding" his father dies, due to Laurance being jealous and being consumed by his Shadow warrior form. Before Laurance managed to kill him too, Aphmau managed to soothe him into his normal form.
He is made King after his father died, and sent out, via howl, that he is looking for Aphmau, Laurance, and Katelyn. He clearly ignore the fact that Aphmau saved her life and even makes her the main target just because she was with Laurance. Despite not even being at the wedding, Katelyn is also being hunted just for being friends with them.
Appearance
He has brown hair and black eyes. He wears a white and gold jacket, black gloves, grey pants, and black and gold shoes.
Personality
He was very kind and understanding to Aphmau, as he is stuck in the same position she is. But now he is angry after his father's death. He is now hunting down Aphmau and her friends via howl. He became oblivious of Aphmau saving his life and told the werewolves to kill anyone with her scent.
Trivia
Fenrir's name may be from Norse mythology, as Fenrir was, in the myths, a monstrous wolf and the son of Loki who was destined to kill Odin at Ragnarök.

His name also may be from Fenrir Greyback, a werewolf in Harry Potter.
Fenrir may be inspired by a character from Final Fantasy VII, who also was a werewolf, and his name was Fenrir.

He may take an antagonistic role now because of him hunting for Aphmau, after becoming King.

After some of the werewolves managed to find who they think is Aphmau, it was revealed that Fenrir wants Aphmau and her friends dead on sight.
As of "Hero In Disguise", he is still looking for her.

It is possible that his father tainted his mind and is controlling him.
Gallery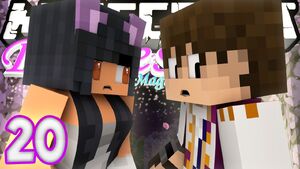 Ad blocker interference detected!
Wikia is a free-to-use site that makes money from advertising. We have a modified experience for viewers using ad blockers

Wikia is not accessible if you've made further modifications. Remove the custom ad blocker rule(s) and the page will load as expected.