Overview
Garte
Full Name

Garte Ro'Meave

Characteristics

Race

Human

Gender

Male

Traits

Hair Color

Blond

Eye Color

Blue

Professional Status

Affiliation(s)

O'Khasis

Occupation(s)

Lord of O'Khasis

Personal Status

Status

Unknown

Relative(s)
Counterpart

Media

Voice Actor

HeySuezo
Biography
Garte is the Lord of O'Khasis, and father to Garroth, Zane, and Vylad. Vylad, however, states; "Zianna was mine, Garroth, and Zane's mother, but Garte had adopted me as his son" Garte, once a man who cared for his people, is now a man who only cares for "the pursuit of power," as Garroth put it. This was due to a near death experience.
Garte became extremely involved with politics, not caring about his own family's feelings. When Zianna told him of her affair, it snapped him back to reality, is what Vylad stated. Garte treated Vylad like his own son, but after his NDE (Near Death Experience), he became corrupt again and extremely disliked Vylad. To this day, it's presumed he still hates him.
Garte had a huge influence on Zane, even though Zane was showing horrible traits before his father's NDE. Almost going to war with Scaleswind, Garte had set up a peace treaty. The treaty stated that the first born of the estates were to be married.  (Nicole and Garroth) Horrified at the thought, Garroth ran away.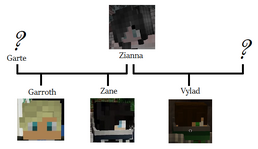 Zane is the most loyal to Garte out of his three sons.
Garte also has the Jury of Nine to protect him. The Jury of Nine are guards sworn to protect him. As Jeffory dies, Garroth takes his place being brainwashed. Garroth is now a Jury of Nine member and we wait to see what is going to happen to him. He is no longer a member and is stuck in the Irene Dimension fighting Zane.
In Season 3, Episode 9 (Her Judgement), Garroth states that Garte was taken to Tu'la after the attacks and they haven't seen him since. Garroth also states that Vylad, Garte's adopted son, is looking for him. As of right now, it is unknown whether or not he is alive.
Appearance
He has yet to appear in Minecraft Diaries. However in MyStreet Phoenix Drop High, we get a look at Garte for the first time. He has dark blond hair and blue eyes and has tan skin.
Personality
Currently evil and power starved, but before he became ill Garroth claims he was a good guy.
Trivia
The name comes from Norse roots from the name Garth which means "enclosure, protection, or from in the garden".
His first ever appearance was actually in MyStreet PDH, despite being a character in Minecraft Diaries.
Image
This is an artist's rendition of Garte. This image IS NOT CANON AND SHOULD NOT BE TAKEN AS HIS TRUE APPEARANCE.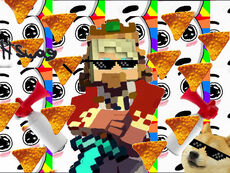 Ad blocker interference detected!
Wikia is a free-to-use site that makes money from advertising. We have a modified experience for viewers using ad blockers

Wikia is not accessible if you've made further modifications. Remove the custom ad blocker rule(s) and the page will load as expected.