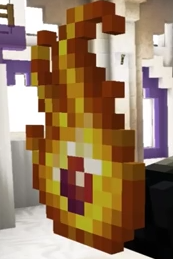 History
Lady Irene's Relic showed up in a few episodes. Aphmau absorbed the relic in the S1 finale in Irene's Dimension, even when Zane was about to grab it. It teleported to Aphmau and she magically absorbed it. So many people was and still are wondering about the powerful mysterious relic. That is something unexplained. After Aphmau healed Dante to full health after a near-fatal arrow wound in S2, E4, "Dance of Swords," Emmalyn is studying the relic and how Aphmau uses it, starting with S2, E5, "The Relic." So far her studies have come to the conclusion that somehow, Aphmau is associated with Lady Irene, and her powers have somehow been transmitted into her being. examples include...
Being able to help Travis rid Ivan's essence from the land WITHOUT dying.
Healing powers (healing Dante and reviving a dead child).
Being able to physically jump from the overworld to a mini dimension where she can see Garroth.
Possibly opening the Irene dimension portal?
Appearance
The Relic appears to be different shades of gold, white, yellow, and brown, with a ruby in the middle of it. It looks to be shaped like that of a flame.
Powers revealed
Healing as of S2, E4. (Aphmau heals Dante completely by placing her hand on a fatal arrow shot he received.) In S2, E22, Aphmau also healed a child that had already died.
Irene's Relic

Vital statistics

Type
Relic
Effects
to be able to gain the ability of a large amount of power, such as Healing abilities.
Source
Irene's Dimenson
Cost to buy
Unknown
Cost to sell
Unknown
Dream Walking as of S2, E9. (Aphmau visits Garroth in an unknown place in her dreams while being physically there.)
Past visions as of S2 E42. (Aphmau found Aaron in an old village and saw a vision that shows happened to the village and how Aaron had survived.)
Ad blocker interference detected!
Wikia is a free-to-use site that makes money from advertising. We have a modified experience for viewers using ad blockers

Wikia is not accessible if you've made further modifications. Remove the custom ad blocker rule(s) and the page will load as expected.