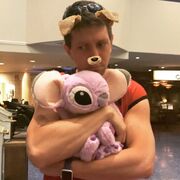 Jason
250px
Nickname(s)

Dom

Characteristics

Gender

Male

Age

32

Traits

Hair Color

Brown

Eye Color

Blue

Professional Status

Partner

Jess (Aphmau) (Wife)
Jason is Jess' husband and the head of BluJay Studios. He helps write the main plot of stories and assists with building, modding, skinning, planning series, working on stories lines, and building sets. He is also the voice of Aaron in MyStreet, MCD and Phoenix Drop High.
Biography
Jason was born in New Jersey and attended a military academy for 4 years. Not much else is known about Jason's past, but he met Jess on the game Final Fantasy somewhere along the line. He eventually proposed to her in Philadelphia. They married at Walt Disney World and had two children.
Jason hates when his and Jess' work is taken advantage of and doesn't mind being open about it. One of the most known situations is when he put out a link to the Anti~Aarmau community on Google + and accused them of attacking their content. He stated that Garmau and Laurmau never happened because of them.
Another known situation is when he critisized the roleplay Glenwood Prep for copying elements from PDH and copying their merch designs. He has a grudge againtst AviatorGaming after he inappropriately used Jess' Minecraft character in a thumbnail without asking.
And also he thinks Ross is the most Rossome guy Ever! And the most Beautiful guy ever :3
Trivia
His favorite Minecraft Diaries episode is episode 100 of season 1 because that was the episode of any series that he has written almost all by himself and he really enjoyed watching it.
His favorite MyStreet character is Garroth. Jason likes how Garroth was a character that changes from a serious character in Minecraft Diaries to a funny character in MyStreet.
Jason does not have a favorite Disney movie.
Jason used to play the guitar while he was in college, but hasn't in a while.
His biggest fear is losing his family; he has bad dreams about it and holds Jess if he wakes up from these nightmares.
He hates how Jet pees where he's not supposed to.
Jason's has confirmed that Bravura is not his last name but only a part of his username.

Other sources that use Bravura as Jess and Jason's last name put this into conflict.

Both he and Moeka share the same birthday.