Biography
Aphmau (Jess) 's cat Johnny was lost about a year ago, 2015. He has not been found, but it is not confirmed he is dead.  
Appearance
Johnny is a black and white tuxedo cat who is very tall and skinny.
He's so cute!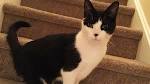 Personality
Not much is known about Johnny's personality, except for that he can sometimes "Steal the Spotlight" in Jess' Vlogs.
Trivia
Johnny is the only pet and cat Jess has at the time for.
Johnny was originally named after the actor, Johnny Depp.
Johnny was a huge help towards Jess and Jason, due to Jason's father passing away before they got Johnny.
Ad blocker interference detected!
Wikia is a free-to-use site that makes money from advertising. We have a modified experience for viewers using ad blockers

Wikia is not accessible if you've made further modifications. Remove the custom ad blocker rule(s) and the page will load as expected.