Kimi~Chan

Characteristics

Race

Horse

Gender

Female

Traits

Hair Color

White (Mane & Tail)
Brown

Eye Color

Black

Personal Status

Status

Unknown

Friend(s)

Kawaii~Chan (Owner)

Media

First Appearance
Biography
Kimi~Chan is Kawaii~Chan's horse. Kawaii~Chan let Aphmau borrow Kimi~Chan to get to Scaleswind in E36, S1.
After Kawaii~Chan moves into Phoenix Drop, Kimi~Chan follows her and rests right outside of her house for the rest of Season 1. Kawaii~Chan does not worry about Kimi~Chan getting lost, as she is sure Kimi~Chan will find her way back after Aphmau gets to Scaleswind.
As of Season Two, Kimi~Chan is probably deceased (not confirmed, this is an assumption).
Appearance
Kimi~Chan is a tan horse with white at the base of each leg, dark brown eyes and has a cream-colored mane and tail.
Personality
Kimi~Chan's personality is little to none, but she seems to be independent and loyal to Kawaii~Chan.
Gallery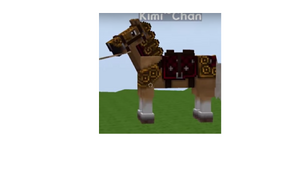 Trivia
Her owner is Kawaii~Chan.
In Japanese, the name "kimi" has many different meanings and readings.
Quotes