Krystal

Characteristics

Race

Human

Gender

Female

Traits

Complexion

White

Hair Color

Black

Eye Color

Light Gray

Professional Status

Previous Partner

McCloud (Ex-Boyfriend)

Personal Status

Status

Active

Relative(s)
Counterpart

Media

First Appearance
Biography
In episode 4 of MyStreet, Krystal makes an appearance outside of Aphmau's door, greeting her to her as a new neighbor and gives a fruit basket to Aphmau. She lives in the house behind the house across from Aphmau (basically behind where Dante, Laurance, Garroth and Travis live). In this episode, we find out McCloud is her ex-boyfriend.
Krystal was also originally a character from Minecraft Isles.
Appearance
In the episode, she wears the same pirate bandana from Isles, a gray scarf, a red shirt under a gray and white striped jacket, black shorts with red detailing and brown boots with light gray laces. She also has the same gold earrings she had in Isles.
She has long raven black hair and light gray colored eyes.
Personality
She seems to have a rough and tough personality, but can be kind and cares for her brothers.
Gallery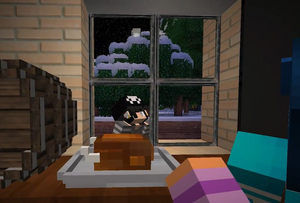 Trivia
The name Krystal is a Latin baby name, meaning "Follower of Christ".
Quotes
"

Grrr.... you cheating double crosser!

"
Krystal, MyStreet Season 1, Episode 9