Louvel

Characteristics

Race

Werewolf

Gender

Male

Traits

Hair Color

Brown Fur

Eye Color

Red

Professional Status

Affiliation(s)

Southern Wolf Tribe

Personal Status

Status

Unknown
Biography
Louvel is one of the brown werewolves from the Southern Wolf Tribe near Bright Port, not to be confused with Lowell.
Appearance.
Louvel has the classic appearance of all the Southern Wolf Tribe's pelt. He has brown fur, which is lighter around the eyes and other areas. Long sharp white claws and teeth, and darkish red slits.
Personality
TBA
Gallery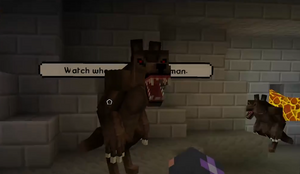 Trivia
He is not the wolf pup Aphmau rescued. That is Lowell.
The name Louvel is a baby boy name. The name Louvel comes from the French origin. In French The meaning of the name Louvel is: Little wolf.
Quotes
"

"Watch where you step, human."

"
Season 1 episode 17
"

"This ground not safe anymore..."

"
Season 1 episode 19
Ad blocker interference detected!
Wikia is a free-to-use site that makes money from advertising. We have a modified experience for viewers using ad blockers

Wikia is not accessible if you've made further modifications. Remove the custom ad blocker rule(s) and the page will load as expected.