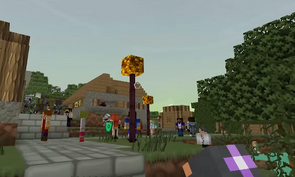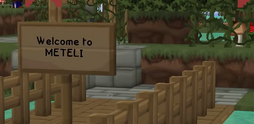 History
Meteli first appeared when Aphmau was sent to it by the Crazy Cat Lady after her cat Whiskers grew huge, and the Crazy Cat Lady blamed it on her dogs. Once there, Aphmau was greeted by the Head Guard Laurence, who immediately started attempting to flirt with her. Aphmau found out that there was a current power struggle in Meteli between two Lord candidates Kenmur and Hayden. Hayden's daughter, Cadenza, was missing. Later, Aphmau found her. Aphmau eventually got what she needed and left. Later in the series, Cadenza and Laurence decided to live in Phoenix Drop instead and leave Meteli. Meteli joined the Phoenix Alliance after Aphmau saved him and Cadenza from the Shadow Knights. As the war started, Meteli was burned down by Zane and O'Khasis, when they were getting ready to head to Phoenix Drop to help with the war.
15 years later, in Season 2 War of the Magi, Meteli was rebuilt more inland. Hayden passed away so Cadenza took over Lordship. Cadenza took Cookie, one of Aphmau's dogs with her, but sadly Cookie passed away, but not before she had husky puppies. Cadenza named one of the puppies Crumb, which she kept. The only resident of Old Meteli now is the Chicken Shaman, who is slightly nicer and crazier. He calls the village the "Chicken Village" for now until he gets his home back from the "Horse Shaman."
People
Guards
People (S2)
Ad blocker interference detected!
Wikia is a free-to-use site that makes money from advertising. We have a modified experience for viewers using ad blockers

Wikia is not accessible if you've made further modifications. Remove the custom ad blocker rule(s) and the page will load as expected.