Mikai

Characteristics

Race

Meif'wa

Weapon

Golden Sword

Gender

Male

Traits

Complexion

Dark

Hair Color

Lilac

Eye Color

Green

Professional Status

Occupation(s)

Refugee/Rebel group leader

Personal Status

Status

Alive

Relative(s)

Michi (Twin Sister)

Relationships

Aphmau (Ally)

Media

First Appearance
Biography
Mikai is a Meif'wa from the Tu'la region. He claims to have left because of a tryant king in his homeland. His followers travel in caravans.
He was first seen at the gates of Scaleswind, seeking refuge. Nicole, being kind-hearted accepted. When Aphmau tells him about Michi, he claims states that she is his twin sister, but while Michi is evil, Mikai seems to be good. He claims that Michi faked her death, like she has done before, but this time he almost believed it. He then requests to join Aphmau's new alliance, which he does.
Kawaii~Chan has stated that she knows of the twins, but has only ever met Mikai in person and only knows Michi by reputation.
Appearance
He has lilac hair that gets darker at the ends, and green eyes. He wears a dark gray/light gray speckled armor, dark purple and black pants, purple and black shoes with dark purple gloves.
Since Michi is a Meif'wa, he has cat ears. His ears are white with black edges. He also has a brown strap going across his armor, presumably for a weapon.
Personality
He has a caring, yet a no-nonsense type personality, which is the exact opposite personality of his twin sister, Michi.
Gallery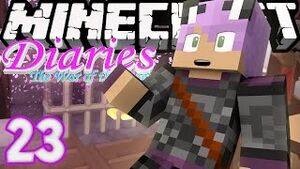 Trivia
Mikai is a Talmudic name and is an English respelling of Micaiah, which is a form of the Hebrew name Mikhayahu, which means "Who is like God?". In Talmudic tradition, names with meanings that are rhetorical questions are quite common.
However, his name can also be Japanese for "Uncivilized", "Savage land" and/or "Backward region", since the kanji 未開 spells Mikai in rōmaji. This would be more fitting to the dictatorship of his region rather than his personality.
He is the first natural born male meif'wa known in the series.