Mittens

Characteristics

Race

Cat

Traits

Hair Color

Yellow

Eye Color

Green

Professional Status

Occupation(s)

Being stuck with the crazy cat lady

Personal Status

Status

Unknown

Relationships

Media

First Appearance
 Biography
Mittens is the Crazy Cat Lady's or Urla's favorite cat. In episode 26 of season one, he is splashed with a mysterious potion that made him large. The Crazy Cat Lady gets furious at Aphmau and sends her out to get a potion to return the cat to it original size. Later on, Aphmau gets the potion and the cat is returned back to normal. You see Mittens almost everywhere with the Crazy Cat Lady.
In Season 2, it's most likely that he died with Urla, but that's still up to debate.
Appearance
Mittens is an orange tabby with green eyes and a white chest, paws and underbelly.
Personality 
Mittens likes to hiss at Aphmau and is generally a mean cat.
Gallery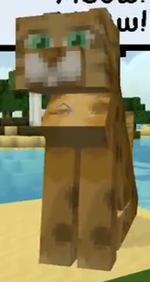 Ad blocker interference detected!
Wikia is a free-to-use site that makes money from advertising. We have a modified experience for viewers using ad blockers

Wikia is not accessible if you've made further modifications. Remove the custom ad blocker rule(s) and the page will load as expected.