MyStreet episodes are broken into several story arcs. The following are the arc names, episodes they comprise and summary of each episode. Arcs are relatively 3 parts (a beginning, middle, and end), however it may extend to even 7 episodes focusing on an event or occasion. 
This features story arcs of The Big Move, MyStreet, and MyStreet Phoenix Drop High. Story arcs of MyStreet Phoenix Drop High is placed prior to MyStreet story arcs to be chronologically correct.
Please note that some these given names are not canon. 
Aphmau is woken up by her mom intrusion and warns her of the first day of school. Dressed up, Aphmau packs her belongings, but is in shock as she is reminded of having no friends. This concerns her mom, but is encourage to persevere once more. Confident, she takes a photo commemorating her first day, but is interrupted by an unknown individual. Aphmau's day turns sweet to sour as she meets new faces and a mean girl. Having received her schedule, Aphmau is roaming around the building endlessly, but gets help from an upperclassmen. Finally at her homeroom, she motivates herself by befriending Travis, a freshman as well.
At the door of the social event, Aphmau and Travis get to know each other more by sharing past experiences. The class enter to be surprised with a wild gathering. As the two begin to explore the clubs, Travis is knocked out by a volleyball by Katelyn. Garroth and Laurance scold her, which she apologizes. Recovered from the nasty shot, Travis finds a club for him, whilst Aphmau chats with an online friend. The last bell rings, causing the two split at the moment. Aphmau, now on her final class, is caught in between a fight Aaron and Balto. Attempting to stop the quarrel, the former throws him out the window. The werewolf teacher arrives and begins his lessons. He announces that students need to be paired up, thus putting Aaron and Aphmau a team. At home, Aphmau's mom asks her on her first day, which she replies gleefully. 
As Aphmau heads to school, she encounters Ivy and her friends, the one who bullied her during her first day. Ivy threatens Aphmau to stay away from Garroth and immediately leaves. At her homeroom, Aphmau is alone due Travis absence; trying to pass time, she talks to her internet friend. Travis finally arrives, but the bell rings. As she enters her next class, Aphmau notices that Garroth and Laurance are in her class. Flustered, she tries to be calm and rational, but this fails ultimately. The trio chat for a bit, but once again the bell rings. At her next class, Aphmau is caught in the middle of a fight between Katelyn and Lucinda. The fight escalates to the point of Hyria, the Witchery Teacher, turning the angry girls into cats. Aphmau initially liked the idea of having cats as partners, but this backfired as her new "best friends" meowed the entire class. 
As the first week ends, Aphmau has a fight with Ivy, who is angry towards Aphmau for speaking to Garroth. Trying to cease the situation, Ivy pushes Aphmau and vice versa, causing Hyria to stop the quarrel. Having not seen the entire confrontation, Hyria gives Aphmau the detention. At detention, Aphmau is met once more with Aaron, a senior who tranferred from a military academy. Showing hostility, he insists Aphmau to leave him alone, which she does. Attempting to befriend the senior once again, but Jeffory steps in to stop the argument immediately. After having a friendly conversation with Jeffory, the detention begins once more. At the front of the entrance, Laurance is seen waiting for Aphmau. The two walked together home, but her mother seems to be angry at the situation.
After the sudden academy from the school's principal Chad, Aphmau and Travis part ways as the weekend is about to begin. Out of the blue, Aphmau receives a text message from Laurance, who wants to hangout during the break. Initially nervous, Aphmau agrees to meet him at the park. Arriving at the park, she is greeted by Laurance. As their day begins, the duo encounter some trouble with some gloomy classmates. The proclaimed "Shadow Knights" quickly spill information from Laurance's past, causing him to become frustrated. Annoyed, Laurance pulls Aphmau away and into a nearby bridge where he warns to stay far from the group. At the end of his warning, Garroth arrives to the scene and is surprised to see Aphmau. The group go off into a small area, where out of sudden both guys asks Aphmau is she'd like to be in a relationship. Flustered, she denies to accept their offers. From the distance, Aphmau's mother rings the cars horns to scare off the guys. In the car, Aphmau's mother reveals a thought that one of the boy looks familiar.
Episodes
This arc is spelled as "Ro'Maeve Family" in the episode titles. There has yet to be a canon text as both spellings has been used frequently. 
At the park, Aphmau is dragged to go outside by her mother. Much to her surprise, she discovers that Zianna is the mother of Garroth, Zane, and Vylad. As the mothers go off to a tune jog, the kids go to the park and play soccer. While playing, Aphmau kicks the soccer ball to Zane, which hits him on his right eye. As the moms return from their exercise, Zianna and Savannah reminise on a previous event that's similar to the current one. The two reveal that their kids often played together during their youth. Zianna invites Aphmau's family for a dinner, as the latter returns home. Garroth stares blankly as he realizes his feelings for Aphmau. 
At her home, Aphmau is helping her mom make some salsa for the upcoming dinner. Aphmau finishes her chore, but a knock on the door alerts. Answering the door, she finds that Travis has come for a visit. Savannah asks the two to fetch chili to make the salsa spicier. The duo head outside and while picking chilis, they catch up on some events. An hour pass, causing Savannah to hurry their picking. Dropping Travis by Dante's house, Gene notices Aphmau and runs off. At the Ro'Meave residency, dinner is about to begin. 
At the Ro'Meave house, Zianna and Savannah prepare the dinner while Garroth shows Aphmau around the house. Visiting his brothers' rooms, the kids were alerted by Garte's return from work. The two family dine, but a heated argument between Garroth and Zane forces Garroth to run outside. At the backyard, Aphmau comforts Garroth. Unexpected, Garroth tells his true feelings to Aphmau, who he then pull for a kiss. Flustered, the two keep this secret to themselves, however, as paradise begins Gene plans to destroy through a simple photo. 
Episodes
As the new weeks stars, Aphmau heads to school, accompanied by Laurance. The two arrive at the fountain and catch up on the previous events. Laurance leaves for class, but Gene surprises Aphmau with a threatening personality. Aphmau meets Gene and his gang at an empty ground around the school campus. Irratated, Aphmau pleads to stop Gene from spreading the photo to Laurance. Astonished by Laurance's sudden appearance, Gene drives a convincing lie which he falls for. At the end of school, Aphmau is called by Gene to meet at the parking lot to meet his mom. There, Gene used her goody personality for his advantage so his mom does not scold him.
Aphmau
Episodes
The arc is alternatively known as Aaron VS Aphmau Arc. 
TBA
Episodes
The arc is alternatively known as FC and Shu Arc. 
Episodes
Episodes
Episodes
Episodes
Second Year
The Big Move is a mini-series that follows the MyStreet series. 
Episodes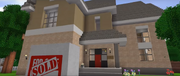 From the preceding events, Aphmau, Katelyn, and Kawaii~Chan have moved into their new home. Unloading their belongings, Aphmau and Kawaii~Chan greet their neighbors to see a familar faces. Surprised by the occurence, she heads back inside in search for Katelyn. After heading down the basements, she is met with a shrine, leaving her frozen. Petrified at the occurence, Aphmau is back at her room sobbing while Katelyn offers to read a story, which adds insult to injury.
At the sound of a doorbell ring, Aphmau answers the door to see Zane behind it. Reacting coldly to her presence, Zane immediately leaves, leaving Aphmau suspicious of his actions. Later on, Kawaii~Chan asks Aphmau is they could order pizza, which she responds yes. The pizza guy arrives but has disappeared. Unbeknowst of her knowledge, Aphmau enters Kawaii~Chan's room to see the pizza guy sleeping. Speechless of her actions, Aphmau decides to take him down before he awoke. Awoke, he thanks the two massively as he believes their lies. After failed attempt number one, Zane welcomes the new neighbor, only to discover his older brother, Dante, and Laurance reside there, which he reacts coldly as well. 
Nervous about her arrival, Laurance and Garroth run hysterically to perfect their decor and house. At Aphmau's enter, she is greeted by Laurance, who suffers anxiety and leaves instantly. Garroth is soon forced to tour Aphmau around the house, but he soon to vanish. Dante then invite Aphmau to his room to show a picture of him when he is younger. Overhearing the laughter of Aphmau, forces Garroth and Laurance to break the door to see nothing out of the ordinary. The guys laugh loudly as they hear Aphmau has fallen in the toilet. 
Episodes
After a sour tune, Katelyn chases Aphmau, leading to the snow-covered front yard. Apologized of her actions, the two decide to have a friendly snowman build. However, their fun turns bitter as they are barraged with snowballs from the guys. As a last resort, Aphmau fires a snowball at an unsuspecting Zane, giving the fault to the guys, starting an intense snowball fight. 
At IHOP, Kawaii~Chan sees Reese and plans to give him a Christmas present. She then leaves her job and heads off to recruit Aphmau for her assistance. Accepting her job volutarily, Aphmau and Kawaii~Chan are in pursuit for the perfect gift and goes to the mall. At the mall, Kawaii~Chan is tricked into buying useless items, costing her hard-earned money. Sobbing of her misfortune, Zane appears and eagerly buys the items, replenishing her lost cash.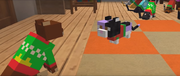 At the ring of a doorbell, Katelyn is forced to watch over a flock of cats, however one of the cat goes misisng. At the cry of Celeste, Aphmau swfitly runs upstairs to see her surrounded in cats. Angered by the possession of a dog, the leader of the cat, Randy, turns Aphmau into a cat. At the guys house, she is retrieved by Garroth, who is fond of Aphmau-cat but she runs out through Dante's room. Stumbling on the snow, Zane is greeted with the purple cat. Bringing Aphmau-cat in, she reverts back to her normal form, leaving a confused Zane. 
With the holiday season nearing in, the girls and guys decide to decorate their houses to match the festive seasons. However, this fun atmosphere becomes bitter as news of a decoration contest is ongoing. Hearing the news, the guys and girls hasten their decoration. As the judging begins, the groups meet disappointment as they receive low points, thus giving Aaron's house the win.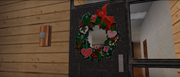 Episodes
A holiday party from the Aphmau's household is held but the guys decide that it would be the perfect time to get a kiss from Aphmau. Back at Aphmau's home, the girls are preparing their jolly night. A heated fight break lose as more participants join in. At the sound of Aphmau's laugh, the fight is stopped to discover Aphmau and Celeste under the mistletoe. Relieved by it, Michi and Reese kiss, making Kawaii~Chan faint.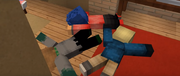 Awoken by Aphmau, the kiss is still fresh on her mind, she sobs on the ground. Unknown of the occurence, Aphmau prompts Kawaii~Chan to sit on the couch to be more comfortable. As the plan to kiss Aphmau continues, the guys resume their plans. As the night ends, Dante, Garroth, and Laurance trip one another whilst under the mistletoe. Showing horrified looks, the guys refuse to do the kiss. 
An empty feeling sits in Aphmau's mind but soon figures out that they are in need of a Christmas tree. Feeling insulted by their small tree, the guys also head out to buy a Christmas tree. At the Christmas tree section, the guys and girls fight over the best-looking tree, resulting in a fight. The conflict is soon resolved as they forgive one another and heads back to their houses to decorate a tree together. 
As snow falls, Zane overhears Aaron's invitation on Aphmau's Christmas gathering. On Christmas evening, Zane plans to steal Christmas with the assistance of Pinkie Cake. Zane then goes to steal the presents of his unsuspecting neighbors, but is stopped by Aphmau. On Chrismas day, Zane returns the presents and she is kissed on the cheek by Aphmau.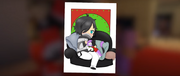 With the girls frozen inside, they decide to spend the day together. At the guys' house they spend their day binge-watching My Little Pony. The girls begin sharing their experiences on the previous days. As the night sets, the girls have a minor altercation on who would get the remaining last cookie. Full of frustration, Katelyn tosses the cookie, beginning another conflict. At guys' house, Dante and Laurance complete their marathon and begins drawing on Garroth's face. 
Episodes
An invitaion for a late New Years party is presented to Katelyn by Garroth and Laurance. With plans going smoothly, Aphmau and Garroth gives unwanted support to Emmalyn and Kenmur on the event. Silent of the upcoming confrontation, the clock finally reaches midnight and Emmalym and Kenmur gets their kiss.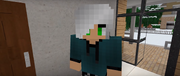 The new year begins harsh from the guys' house as they are low on cash. As a result, Dante invites Travis to move in, but the new guys seems to be more trouble than helpful. At Aaron's house, Aphmau discusses her current job status because on an investigation. The doorbell rings, to reveal Garroth, Travis, and Laurance behind the door. Inviting them inside comes with repercussions as Aphmau finds a naked surprise. 
Travis is interested to see the other girls, Kawaii~Chan and Katelyn, but mostly shows interest in Aphmau. Before he enters Aphmau's room, Zane and Aphmau are playing with ponies. Surprised by Travis' appearance, Aphmau encourage Zane to befriend him but fails misreably. He then goes home but is confronted by Aphmau and encourages him to continue trying. Back at the house, it is set ablaze from the cookies still in the oven. Aphmau watches outside as the house continue to be convered in flames. 
The flame coating their homes left part of the house in burnt condition. As a way to repair their home, Kawaii~Chan brings Aphmau with her to occupy an opening at a maid cafe. At the maid cafe, it is revealed that no positions are opened, leaving Kawaii~Chan crying. As the boss fires Michi, Kawaii~Chan and Aphmaur receives a training spot before they receive the official job. During their day, the guys hears the news of the girls working at the maid cafe, but is surprised with Zane wearing a maid outfit. Dazed by his appearance, the guys leave the cafe, with doubt in their eyes.
After hearing the news of the girls' house in damage, the guys decide to lend a helping hand. However, Kawaii~Chan reveals that Aphmau is at Aaron's house chatting. Behind the bushes they spy on the two before Aphmau leaves. Going back home, Aphmau bumps into Dante and invites him over. As the two catch up, Dante reveals that he has gotten close with Nicole. Encouraging to hangout with Nicole more, Aphmau and Dante go upstairs but are surprised with Kawaii~Chan. The group then go to the basement to see another shrine dedicated to Dante and Nicole. Angered by this, Katelyn chases Kawaii~Chan while Aphmau regrets her decisions in life.
Episodes
Katelyn is in her room with Jeffory. Interested at attending college and directing a play, Jeffory asks Aphmau for her help in exchange for Olive Garden. Katelyn proceeds to head downstairs to hear Aphmau and Zane producing a play, exciting Katelyn greatly. At the community center, Katelyn holds auditions for Romeo but no one shows up. At as a last resort, Aphmau chooses the role of Juliet, while Aaron picks Romeo. The guys hastily request to do an official audition, which Katelyn happily obliges.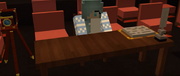 Kawaii~Chan is enthusiatic about the upcoming play as Aaron and Aphma may kiss, which Katelyn scolds her for it. At the guys' house, they are seen practicing their lines for their auditions, but is interrupted by Nicole and Dante. Showing interest in audtioning for Romeo, causes Nicole to become angry and storms off. At the community center, Katelyn start the auditions and ultimately picks Aaron due of his likeliness. 
At last the play finally begins. Garroth and Laurance faces their toughest challenge as they could not stop the play. However, Lucinda appears with a potion. Aaron is soon trapped in the washroom, caused by Garroth. No time for a replacement, forced Katelyn to use Garroth as Romeo. As the final scene starts, Laurance throws the potion but is pushed by Kawaii~Chan, changing Aphmau's and Laurance's places before the kiss. Ultimately ending with Garroth and Laurance kiss. As the night falls, Aphmau and Aaron also share their first kiss. 
Episodes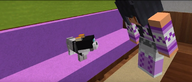 Zane is speechless as the news of Aaron and Aphmau kissing. As a result, he decides to confront Aaron but is stopped on his tracks. Casted into a sleeping spell, Aphmau drags Zane inside Lucinda's home. Peacefully adoze, Lucinda and Aphmau catch up on the previous events and Lucinda's sudden move. Whilst the two chat, Kawaii~Chan eagerly rings the doorbell to welcome her new neighbor. However, Lucinda and Kawaii~Chan become heated as their past conflict arises, but soon fixes itself as Lucinda tosses a cat transformation potion on the awoken Zane, resulting in a resolution.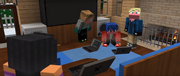 With Katelyn's change of plans, Aphmau stays at home watching the latest episodes of her tv show. However, she receives a message from Garroth, who immediately wants to talk. Nervous of the confrontation, Aphmau believes that her secret is known, but instead receives something else. 
Katelyn's test is nearing in and Jeffory asks her to babysit his daughter, Abby. However, as her time and priorities hit the maximum, Katelyn gives the job to Travis and Aphmau, who unwillingly accept. As they return from upstairs, Abby is revealed to have gone missing. Searching frantically, the finally find her playing with toys down in the basement. Bringing her up, Abby decides to have a princess tea party and weds Aphmau and Travis. As Abby concludes her ceremony, Celeste attacks Travis, ending the wedding. Abby and Aphmau enjoy his misfortune and go to the kitchen to bake a wedding cake.
Episodes
This arc is spelled as "Valentine's Date" in the episode titles. 
Aphmau receives a love letter from Travis, who would like to go on a date with Katelyn. After blackmailing Aphmau, Travis convinces her to join him on the date along with Aaron. Past out on the couch, Aphmau wakes up by her friends, who inform her on the current situation. After Aaron arrives, Garroth and Laurance are suspicious of his behavior, they pull him to the side and asks questions immediately. Receiving some answers opposite to that of what Aphmau received. Returning back to the living room, all of them decide to go on a Valentine's date altogether, providing a hectic night.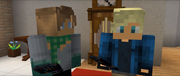 The revelation of Aphmau's and Aaron's first date concerns Zane greatly, but has a change of heart as he sees that Aaron is more suited bachelor for Aphmau. As the Valentine's Date begins, everyone is gathered around the water fountain and Travis announces a night of fun to this friends. As they head to the arcade, a sneaky Michi plans a move to steal Aaron from Aphmau. 
As the group reaches the arcade, the girls minus Aphmau head go to the bathroom to discuss the problem in their minds - Aphmau's attraction towards Aaron. After leaving the stalls, Michi brews up a plan on using a potion to steal Aaron from Aphmau. Drinking the potion, Michi transforms into Aphmau and tempts Aaron to kissing her. The potion wears off as Aphmau arrives to the two kissing, leaving her teary-eyed. Garroth and Laurance confess on seeing the kiss, which Aphmau believes. Back home, Aphmau pulls Aaron for a kiss, but is interrupted by Zane's appearance. As the night ends, Aphmau runs to her room while Zane acts angers to the kiss. 
Episodes
This arc is often known as "Mom Ro'Meave Arc" as most of the episode primarily focuses on Zianna, but also includes the Ro'Meave brothers. 
phmau and Katelyn are welcomed by Vylad, Garroth's and Zane's younger brother, who are in need of a home to stay temporarily. Hesitant at first, Aphmau openly accept Vylad into their household, but as the two could finalize the agreement, his brothers interrupt. After hiding, Vylad is discovered by Garroth and Zane, explaining the situation entirely.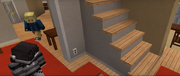 Lucinda's curiosity peaks as she storms to Aphmau's room but is stopped by Cadenza. At the door, Katelyn and Lucinda agree on a contest on who could get the most information about Aaron and Aphmau. As the burning question is asked, Katelyn is frozen in place by Lucinda to speak to Aphmau one-on-one. Lucinda takes Aphmau to her house and her question is answered. As their conversation ends, Katelyn breaks through the door and is chased by a lovesick Travis. 
After a phone call from Zianna, she is suspicious of Zane finding love with Aphmau. As Vylad's lie escalates, he asks his brothers for help further the lie. At Aphmau's room, the Ro'Meave brothers crashes in on her room to ask a favor, which is unwillingly accept. Before Zianna's arrival, Aphmau and Zane practice as a couple, but fail miserably at test given by Vylad. Upon Zianna's appearance, she warmly hugs Aphmau and takes the group in for a dinner date in hopes for a picture of the couple's first kiss.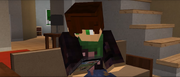 At the mall, Zianna excitedly prepares the upcoming dinner date, which causes the others to loathe. Zianna then pulls Aphmau to know more of her relationship with Zane. The two share a moment as they reconcile of the past, Aphmau is astounded by the dress she is given. After Zianna leaves, Aphmau is noticed by Aaron, who is shopping for a present to bestow upon her. Flustered, the two are startled by Zianna's return, who expresses her despise of Aaron. As the explain the situation, Zianna invites Aaron to the dinner, but before they proceeded, Aphmau and Zane clarify the ruse they are playing. Leaving the mall, Aaron shows his jealousy and growl at Zane.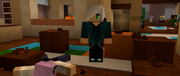 At the front of the restaurant, the group discuss on using the love potion in case their plan backfires. Disposing the love potion, Michi takes it in hopes to steal Aaron away from Aphmau. Michi, disguised as a waiter, plans commences as she gives the love potion to Aphmau, hypnotizing her into affectionately liking Zane. This then upsets Aaron and Garroth greatly, causing the two to call for Aphmau, thus waking her up. Awakening from her trance, Michi's plans are foiled and disappears. The group then reveal the truth to Zianna, which she fully understands. Out of nowhere, Travis crashes the restaurant after hearing Katelyn and Aphmau "becoming" a couple.
Episodes
Aphmau prepares for a day to hangout with Aaron, but is stopped by Zane. As he gladly leaves, Aphmau forbids him, encouraging him to join her and Aaron. In Aaron's home, tensions rise as the boys quietly argue due to previous event. As the two make momentarily, Travis' scream is heard and explains that he was assaulted by Katelyn because of his flirty ways. Travis then gets up and the four decide to hangout. Travis encourage the two in a best friend contest, causing drama to ascent. Aphmau arrives to the living room, informing the group on an upcoming convention coming to town.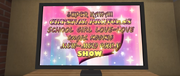 Aaron, Aphmau, and Zane arrive at the hotel where they talk about the upcoming convention. Kawaii~Chan joins the group to welcome them. The group then head up to their hotel room to beging their preparation. Almost complete with her costume, Aphmau opens her suitcase but reveals that her cosplay has gone missing. Disheartened, she keeps her head up and receives a knock on her door. At the door, Lucinda, Garroth, Laurance, and Travis are greeted by Aphmau. Listening her story, Lucinda conjures up several costumes for the moment, but Aphmau is left wearing an unfamilar outfit due to the wand losing power. Lucinda then asks Travis on a date, which he gladly accept the offer to. Kawaii~Chan is seen talking to the hotel manager for Aphmau's missing cosplay, while the group end their night by playing video games. 
As the first day of A-Con arrives, the gang dress up as their favorite characters. A spark between Katelyn and Lucinda fires up as the two fight over Travis' attention. Patiently waiting, Zane and Aaron discuss their history with Aphmau, but is stopped as she arrives. Near a booth, Aaron and Zane begin a fight in front of a crowd. Cheers from the audience because of their battle, Travis joins the battle with the assistance of Lucinda's kiss, however Katelyn's makes the first move and steals the kiss from Lucinda. Knocked out cold, Travis lies on the floor whilst Katelyn regrets her actions. Aphmau, Aaron, and Zane are amazed by the confrontation. The group continues on with their day. 
In the last day of the convention, Kawaii~Chan is excited to enter the dance contest, but with Nicole sick, she asks Katelyn for her help, who unwillingly accepts. Preparing for a confession, Aaron is interrupted by Aphmau's appearance. As he confesses his feelings, the two are stopped by Zane. The group heads out to see the dance contest to support the girls. Travis is in a dilemma between Lucinda and Katelyn, but is indecisive. Leaving the dance floor, Aaron and Aphmau talk personally. Isolated from the group, the couple confesses their true feelings and finally kiss. The convention finally closing, the new couple expose their found love to the group, whom expresses positively support to the news. 
Episodes
Beginning of Summer
The Gang is playing a game at the boys house when suddenly Dante and Aaron burst through the door and inform the gang that they must go to the airport immediately due to the fact that they have tickets to the "Love~Love Resort". The gang quickly get to the airport (leaving Travis behind in the progress) and arrive at the resort. A tour guide named "Guy" shows the group to their room. Aaron and Aphmau decide to share a room together, much to the annoyance of Katelyn. The group then change into their bathing suits and head toward the pool. Afterwards, they watch the fireworks as their summer officially begins.
Episodes 
Aphmau's Love
Episodes
Island Paradise
Episodes
Water Park
Episodes
Raging Rivalries
Episodes
Troubled Waters
Episodes
Gallery
MyStreet Phoenix Drop High
MyStreet Season 1
MyStreet Season 2
Ad blocker interference detected!
Wikia is a free-to-use site that makes money from advertising. We have a modified experience for viewers using ad blockers

Wikia is not accessible if you've made further modifications. Remove the custom ad blocker rule(s) and the page will load as expected.