Prom!?

Season 1, Episode 26
Statistics
Post Date
June 10, 2016
Duration
13:58
Written By
Aphmau
Produced By
Dom
Episode Guide
Previous
"Aphmau Has a Baby!?"
←
Next
"Ask the Girl"
→
"Prom!?" is the 26th episode of MyStreet Phoenix Drop High. It premiered on June 10th, 2016.
Blurb
"Phoenix Drop High announces it's prom! Who will take who!?"
Episode Overview
TBA
Characters
Trivia
The "blurb" does not appear in the description of the video however, in Aphmau's tweet, it appears.
Teony is revealed to be openly homosexual and the first lesbian character in MyStreet Phoenix Drop High.

She also appears to be a person who takes her studies seriously, even to the point of not attending events until she is admitted into a great university/college.

According to Katelyn, Jeffory had a fondness for marshmallows.
Zane's more mature voice is heard at the end of the episode. 
At the end, Lucinda mentions something but is cut off by Teony. 
Several students were given voice roles but their actors remain unknown. 
Video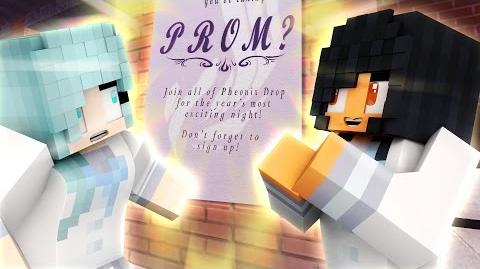 Ad blocker interference detected!
Wikia is a free-to-use site that makes money from advertising. We have a modified experience for viewers using ad blockers

Wikia is not accessible if you've made further modifications. Remove the custom ad blocker rule(s) and the page will load as expected.