Puma

Characteristics

Race

Dog

Gender

Female

Traits

Hair Color

White

Eye Color

Black

Professional Status

Affiliation(s)
Previous Affiliation(s)
Partner

Unknown Male Dog (Mate)

Personal Status

Status

Deceased

Friend(s)

Media

First Appearance
Biography
She was one of Aphmau's many dogs. She doesn't show up much in the series. She was a part of the crate of the 4 dogs that washed up onto the Crazy Cat Lady's island.
In between seasons 1 and 2, she stayed in Scaleswind with Kiki and had St. Bernard puppies with an unknown male dog.
15 years later, as of Season 2, she has passed away and now rests in a grave within Scaleswind.  
Appearance
A normal grey wolf with a rainbow collar.
Personality
Loyal, playful, protecting.
Gallery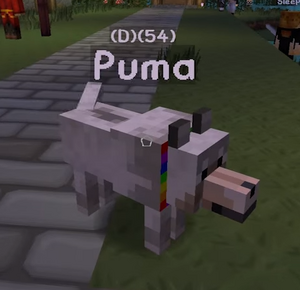 Trivia
​Puma was named after a comment by SealLps Silly on episode 29 that read:
"My dog died and was named puma, could you name one of the dogs puma, p.s puma was a girl, love the mine craft stuff you do! Thank you if you do name one of the dogs, =)"
Fellow Dogs 
Ad blocker interference detected!
Wikia is a free-to-use site that makes money from advertising. We have a modified experience for viewers using ad blockers

Wikia is not accessible if you've made further modifications. Remove the custom ad blocker rule(s) and the page will load as expected.