Joke Page

This page is a joke! almost nothing said on it should be taken seriously.
Biography
The Table made its debut in Episode 83 of Minecraft Diaries Season One. It is just a regular piece of furniture, but when love gets involved, things get irrational...
Little is known about the Table's early life; only that its last seen residence is in the Phoenix Drop Guard Tower.
Laurence and Aphmau have a "joke" conversation about the table as the table quickly gains their love.
Fifteen years later, in
Season Two
, the table is still standing. However, the bae chairs seem to have gone missing.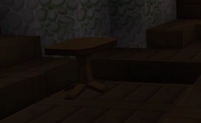 Appearance
The table is made out of hot spruce wood; or so it appears but since it is so hot it is a miracle it hasn't burnt down yet. It might be a finished look, however, there is no knowledge of the table's past to confirm this. the gloss on the table reflects and makes it even more smexy
Fifteen years later, it lives on, and no physical changes seem to have occurred, but its bae chairs have left. It does not seem to want to talk about it. They were inferior to the table anyway.
Even after fifteen years the table is still the best piece of furniture you've ever seen.
Sadly, it still has not been acknowledged to this day.
Relationships
Aphmau (Minecraft Diaries S2); claims to love the table in a "joking" way.
Laurence; "Joked" around with being in love with the table.
And yes, Aphmau and Laurence fought over the table with Garroth and Dante watching.
While Laurence and Aphmau fought over it, the table appeared to be talking to the bae chairs.
Ships involving the majestic Table:
Tabmau (Table x Aphmau)
Laurble (Table x Laurence)
Chairble (Table x Chairs)
Extra Note
This page was meant as a joke. PLEASE no harsh feelings if you don't like it. We understand that this Wikia page doesn't look that professional and/or accurate. This was just a fun little page for giggles made by the Minecraft Diaries Fanbase. Like we said earlier, please no harsh feelings, we just love to have fun and mess around every once in a while. <3