Ungrth

Characteristics

Race

Wyvern

Gender

Male

Traits

Complexion

Gold

Eye Color

Black

Professional Status

Previous Partner

Kaguhf (Former Mate)

Personal Status

Status

Deceased

Friend(s)

Laurance (Owner)

Media

First Appearance
Last Appearance
Biography
Ungrth was Laurance's pet Wyvern, who was also a royal golden Wyvern. He was exiled by his kin due to meddling with human affairs. Sadly, Ungrth gave his life so Laurance, his friend could escape from the Nether in S1, E52. His body now rests in a grave in Phoenix Drop. Unfortunately, 15 years later, it has been robbed. Ungrth's soul fragment was used to make the beautiful Lady Irene statue that cleared the darkness away from Phoenix Drop. Sadly, nothing remains of the grave, but the ground where Ungrth was buried. Laurance visits his grave often to remember him. When Aphmau, Aaron and Laurance explore the Wyvern Cave on the island, Raven recognizes Laurance as Ungrth's master.
Appearance
Ungrth is a Golden Wyvern. He has wings and is generally larger then most Wyverns. He also wears iron armor. In S1, E52, he turns into what resembles a regular Minecraft Ender Dragon, by is referred to an "Ender State" in the series. He turned into that form after saving Laurance.
Personality
Although we know little of Ungrth's personality, we know he was very kind and loyal to Laurance.
Gallery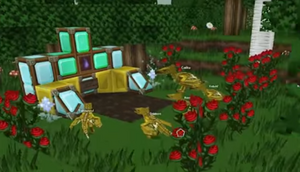 Trivia
TBA
Quotes
TBA