Vincent

Characteristics

Race

Human (Former)
Shadow Knight (Current)

Weapon

Iron Sword

Gender

Male

Age

100+

Traits

Handedness

Right

Complexion

Tanned

Hair Color

Black (dreadlocked)

Eye Color

Blood red

Professional Status

Affiliation(s)

New Meteli
Bright Port
Guard Academy

Previous Affiliation(s)
Occupation(s)

Second in Command Guard of New Meteli
Guarding the Nether Portal at the Bright Port Guard Academy

Personal Status

Status

Alive

Relative(s)

Unknown Father

Relationships

Cadenza (Lord)

Media

First Appearance
Biography
He is the second of command guard of New Meteli. Unknowing what Aphmau looked like, he was accidentally flirting with her when they first met outside Cadenza's house. In Season 2, Episode 11 we find out that he is a Shadow Knight, and became one over 100 years ago.
After he became a Shadow Knight, he killed his Lord/Brother for a good reason as his brother would wage war on any village and kill innocent people for no reason. Even though he is a complete Shadow Knight, he has not lost control (he himself doesn't know why as well) and is still helping the village of New Meteli.
Appearance
Vincent has black hair in dreadlocks, crimson eyes with noticeable bags under them, and a tan mask covering his eyes. He wears iron armor.
Personality
He is very straight forward and wants the best for the people of New Meteli. He's also a flirt. He can be rude if you question him about being a Shadow Knight, but overall he seems like a good guy.
Gallery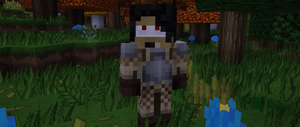 Trivia
Vincent is a Latin name meaning "conquering".
Vincent is based off Vincent Valentine from FF7.