Welcome to Phoenix Drop

Season 2, Episode 1

Statistics

Post Date

October 2nd, 2015

Duration

25:57

Written by
Directed by

Episode Guide
"Welcome to Phoenix Drop" is the first episode of Minecraft Diaries Season 2, and was uploaded on October 2nd, 2015. It runs for 25 minutes and 57 seconds.
Blurb
"Saved from Irene's Dimension of Solitude, Aphmau and friends come face to face with their savior. However their savior has more than a few things they want to say."
Episode Overview
The portal to Irene's Dimension closes and several of the group are resting uncomfortably. Aphmau is confused and is greeted by unknown individual, who later reveals herself as Zoey. Aphmau denies the occurence and Zoey reveals that 15 years has passed. Refusing to believer her words, Aphmau and the group runs to Phoenix Drop immediately. 
Arriving at the entrance, the group sees an empty, barren village. At the gates, Aphmau is distraught as she refuse to accept of 15 years and the remains of Phoenix Drop. Declining of their new reality, Aphmau calms down. Zoey explains the result of Aphmau and her friends disappearance, which caused Phoenix Drop to collapse. Before Zoey leaves, Aphmau asks her on opening the portal, but decides to keep it to herself. 
Entering through the gates, Aphmau notice Aaron, who is standing by a tree. Aaron asks Aphmau on their plans, but Aphmau is more concerned with the 15 years passing. Aaron quietly explains that the timeskip is not a bother due to him being isolated.
Crossing the path, Aphmau finds Laurance, who is standing near Ungrth's grave. He expresses anger as his grave was stolen. Repulsed by the idea, Aphmau pinches him to ensure that it is now the present. She leaves Laurance, while he tries to receive some closure. 
Along the path, Kenmur is waiting outside for Emmalyn. Kenmur clarifies that he is fine, who tries to fight back the tears. In the rubbles of Emmalyn's home, she finds her in the basement. Emmalyn explains that she is coping well with everything, as long as Irene watches over her. 
Lastly, Aphmau finds Katelyn resting near a tree. Still astonished, Katelyn is feeling good as Zane had no influence on the world for 15 years. She advices Aphmau to check on the settlement. 
Aphmau climbs up a small hill to see that the statue of Irene is still intact. As she talks to the statue, she is greeted by Dante, who has grown older. He explains that he is in amazed by her reappearance. Dante explains his guilt for not joining Aphmau on her journey. Dante takes Aphmau to the new settlement. 
As the two reach near the town, Dante warns Aphmau on the changes of the town. At the gate of the town, Dante welcomes Aphmau to her home. From above, Levin is astounded to see his mom again. 
Trivia
This is the first episode of Minecraft Diaries, which is carried through future episodes. 
The thumbnail for this episode features Aphmau. 
Video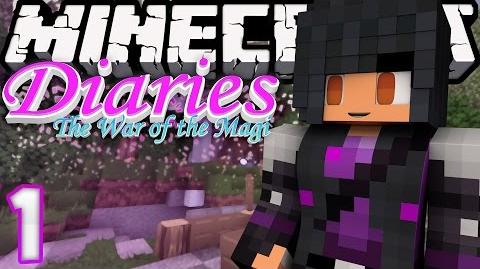 Ad blocker interference detected!
Wikia is a free-to-use site that makes money from advertising. We have a modified experience for viewers using ad blockers

Wikia is not accessible if you've made further modifications. Remove the custom ad blocker rule(s) and the page will load as expected.